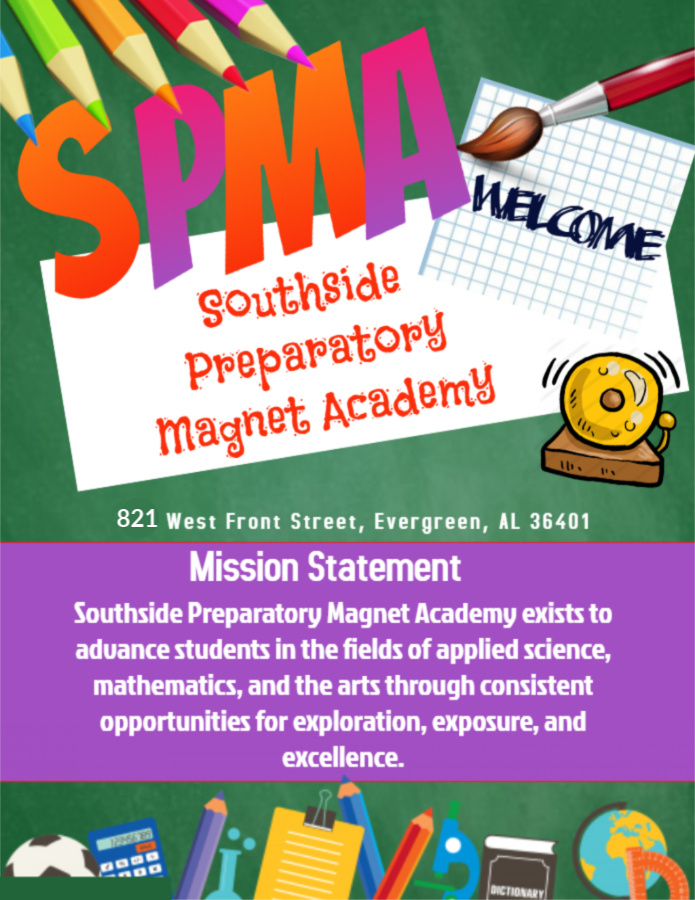 Follow Us on Facebook!
Mission Statement
Southside Preparatory Magnet Academy exists to
advance students in the fields of applied science,
mathematics, and the arts through consistent
opportunities for exploration, exposure, and
excellence.
Beliefs
All students can progressively advance toward
academic excellence when appropriately exposed
to an advanced curriculum filled with explorations.
Vision
We envision a world in which every child embraces
individuality, exemplifies scholarship, accepts
cultural integration, and strives to increase
cognitive abilities.
Mission:
Conecuh County Schools has the mission of ensuring that we create a culture of confident, diverse, and innovative learners in high educational settings. We aim to advance forward and move higher in a climate that encourages growth and prepares leaders to reach their fullest potential to excel in college, career, and life. One aspect of meeting the vision is providing a curriculum that encompasses the needs of all students--academically, socially, and emotionally.
Vision: Advance Forward... Move Higher!
Motto: Just put one foot in front of the other... keep moving!