SPMA Application Here for the 2020-2021 school year !
Nutrition Program Will Provide Meals During

School Closure

On Mondays two lunches and two snacks (one for Monday and Tuesday) for each child will be provided. On Wednesday, each child will receive three lunches and three snacks (for Wednesday, Thursday and Friday).

The meal service Grab and Go times on Mondays & Wednesdays:
HHS and LJHS will be 11:00am- 12:00pm
RJHS 11:15am-12:15pm
CCJHS 11:30am-12:30pm
Hello Trailblazers,
As you know, we will not return to school this school year. However starting April 6th, parents may come pick up their assignment packets (see the calendar for Mrs. Bozeman's office hours) or access the information online (check your conecuhk12 accounts).
*If assistance is needed... PLEASE LET YOUR TEACHERS KNOW. WE WILL HELP YOU! EACH TEACHER CAN BE REACHED IMMEDIATELY BY EMAIL.
*Our counselors and social workers are also aviliable if you need to talk to someone. See their schedule posted under Latest News*
Remember, things are changing daily. We will continue to keep you updated throughout by either: SPMA Facebook Page, SPMA Webpage, School Messenger and/or Remind.com.
Principal's Message:
While you are home, do your best to protect yourself from illness and continue to make learning a priority. Please be assured that we are here to support you as we implement remote learning due to COVID-19. Our remote learning resources will help you navigate and refamiliarize yourself with old and new information. All of it requires digital components. If you are not able to fully access digital learning tools, please contact your teacher. Unfortunately, there's no one-size-fits-all approach for situations like this, but we hope that the resources will be helpful to you. If you have questions or concerns, please don't hesitate to contact us.
Your Principal, Mrs. Tonya Dukes-Bozeman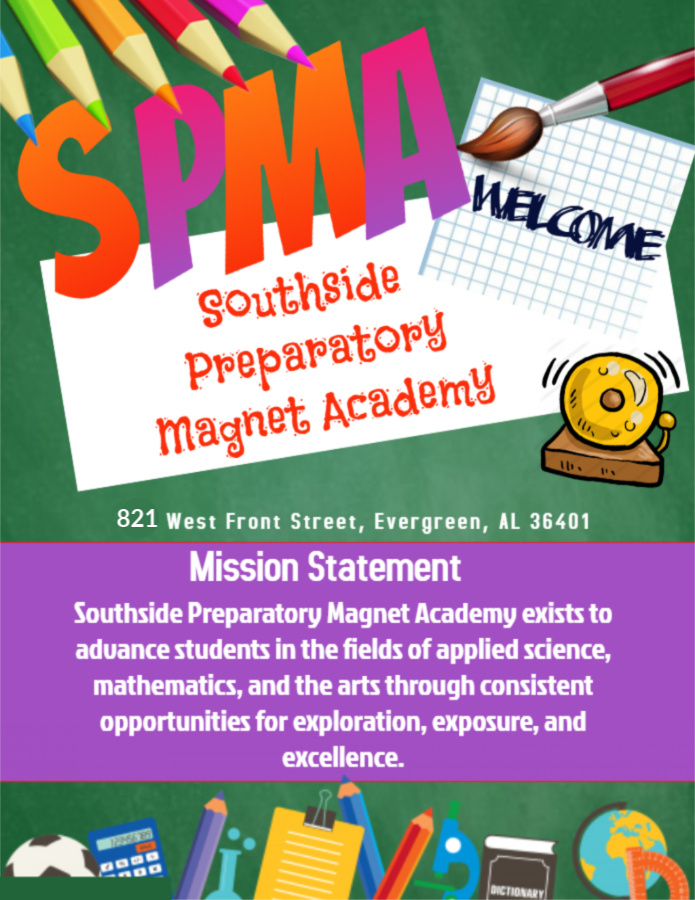 Follow Us on Facebook!
https://www.facebook.com/Southside-Preparatory-Magnet-Academy-SPMA-436164060082124/
Mission Statement
Southside Preparatory Magnet Academy exists to
advance students in the fields of applied science,
mathematics, and the arts through consistent
opportunities for exploration, exposure, and
excellence.
Beliefs
All students can progressively advance toward
academic excellence when appropriately exposed
to an advanced curriculum filled with explorations.
Vision
We envision a world in which every child embraces
individuality, exemplifies scholarship, accepts
cultural integration, and strives to increase
cognitive abilities.
Mission: The mission of CCS is to inspire and prepare all students to be lifelong learners and responsible citizens of the world by engaging them in meaningful and rigorous curriculum that provides opportunities for all students to reach their fullest potential. Whatever It Takes!
Vision: ReThink, ReIgnite, ReDesign, and Transform Lives!
Motto: In Conecuh, we are GREAT...Whatever it takes!